Wall Insulation Near Johnson City, Endicott, Binghamton
We install basement, attic, exterior wall & cavity wall insulation in New York
Watch to learn about the advantages of insulating your walls with dense packed cellulose.
Your home almost certainly has wall insulation, but is it enough? Insufficient or improperly installed wall insulation can lead to air leaks, making your home too hot in the summer and too cold in the winter. This problem can also lead to increased utility bills as your HVAC system works harder to compensate for the poor insulation.
At Foam It Insulation, we provide quality wall insulation services using dense packed cellulose. This material fills wall cavities and ensures that your home is fully insulated and remains comfortable and energy efficient.
If you want to upgrade your home's insulation, give us a call today at 1-607-260-3044 or click below! We provide complete home energy audits and offer free estimates on all our insulation services in Endicott, Binghamton, Johnson City and the surrounding areas.
Before and After
Before

After

New construction is very easy because it's all wide open and easy to see where air can be entering or escaping. We spray foamed this whole house in only 2 days!

Before

After

This Montrose, PA home needed insulation in the walls.

We dense packed the walls of the home with cellulose insulation. It was blown in to the walls from the outside after removing sections of siding. Holes were drilled. The walls were packed. The holes were sealed and the siding was replaced leaving the home more comfortable and more energy efficient.

Before

After

This home is almost done. Some of the finishing touches are being done at this very moment. As shown, there were plenty of gaps and cracks where the cold winter air could seep right in. Now that it is spray foamed, you almost don't need a heater in the home. Once it's warmed up, it stays that way for quite a while. Just imagine what is behind your drywall. How many places are there that you would be able to see right to the outside? Those gaps and cracks are where your money is going. Now I'm not saying tear down your drywall and look for dollar bills. Just pull out your energy bills and see how much you are actually spending to heat and cool your home. Now imagine that getting adequate insulation would drastically reduce your bills. Would you do it? Or would you continue to throw your money in the garbage?
We have the proper techniques to insulate finished walls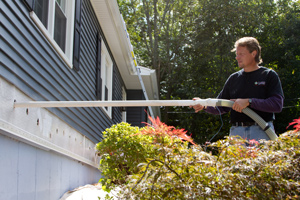 Dense packing cellulose into wall cavities, including previously insulated ones, will provide better R-value and a more comfortable home.
It's tricky to insulate finished walls because it's more difficult to get insulation inside the wall, in the cavities between studs. Walls are easy to insulate when the studs are still visible, before wallboard or other finished wall material is installed.
We access wall cavities from the exterior by removing your shingles or siding and drilling holes in the areas where the insulation will be installed. Once we have access, we will blow dense packed insulation into the wall, continuously adjusting the hose to ensure that the space is completely filled with insulation.
Once this process is completed, we will seal the holes to ensure they are completely airtight and re-install your siding or shingles. By completely filling the wall cavity with dense-packed cellulose, we can ensure that your home won't experience air leaks that waste energy and cause uncomfortable temperatures.
Our complete home energy audit will help you determine what the best energy improvements are for your home. By carefully evaluating the entire home, we can provide you with a complete list of solutions for your specific problems.
Improve interior home comfort with our wall insulation upgrades
If you have uncomfortable rooms or rising utility bills, call the experts at Foam It Insulation today. Our comprehensive insulation services will ensure that your home is as comfortable and energy efficient as possible.
Call us today at 1-607-260-3044 or contact us online to get a free estimate on wall insulation or to schedule a complete home energy audit. We offer all our home energy services in Johnson City, Endicott, Binghamton, Apalachin, Owego, Vestal, Greene, Kirkwood, Conklin, Jackson and throughout the surrounding areas.
Looking for a price? Get a no cost, no obligation free estimate.