Expert Crawl Space Winterization Near Endicott, Binghamton, Johnson City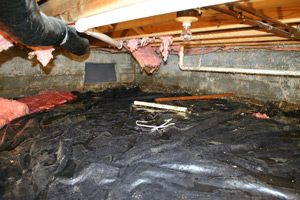 Avoid this crawl space mistake. Fiberglass batt insulation installed between joists in a crawl space will not provide adequate or long-lasting protection against frozen pipes or cold floors.
Improve your home's comfort, lower heating costs & prevent frozen pipes in New York
We specialize in solutions to winterize your crawl space to prevent cold floors, high heating costs, and frozen pipes.
Contact Foam It Insulation for your free quote. We will perform a thorough inspection of your crawl space and seal all air leaks. We install high-performance crawl space insulation to help improve your home comfort and energy efficiency year round.
We are the trusted experts for winterizing crawl spaces in Endicott, Binghamton, Johnson City and surrounding areas.
Before and After
Before

After

This home was built in the early 1900's. The foundation was clearly made of laid stone and it was the one of the leakiest basements ever. The home above was extremely uncomfortable year round and the heating and cooling bills were outrageous. We took care of the homeowner and made sure that they won't have to worry about their basement anymore. The encapsulation system will drastically change their quality of living within the home.

Before

After

Drainage Matting was installed in this crawlspace as a portion of the CleanSpace Procedure. The Drainage Matting will help keep the crawlspace dry in case of moisture build up or flooding. The crawlspace was encapsulated to help cut back on moisture problems as well as cold floors in the winter that were previously caused by the uninsulated crawlspace.

Before

After

There is CleanSpace, Drainage Matting, and TerraBlock all laid down and then finally sealed to the crawlspace walls with spray foam insulation. This method completely protects against air leakage and will help the homeowners be more comfortable in their home.
Ways we can winterize your crawl space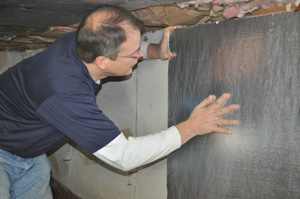 A smart & permanent solution. Insulating crawl space walls with rigid foam insulation creates a thermal barrier that can't be damaged by moisture and won't degrade in appearance or R-value over time.
Insulating & air sealing the rim joist. Left untreated, this thin layer of framing will allow heat to escape and frigid outside air to infiltrate. A professionally installed foam insulation upgrade eliminates these problems.
Insulate crawl space walls with rigid foam. Many crawl spaces have fiberglass batt insulation installed between floor joists. Unfortunately, fiberglass insulation doesn't perform well in crawl space environments. That's why we insulate crawl space walls with SilverGlo™ rigid foam insulation. This high-performance rigid foam is immune to moisture damage and won't lose its R-value or fall out of place once installed.
Insulate crawl space floor. For greater comfort and energy savings, we can insulate a dirt crawl space floor with TerraBlock™ rigid foam insulation. While not as important as insulating your crawl space walls, adding foam board insulation to the floor can reduce  heat loss in the wintertime.
Get a free quote to seal & insulate your crawl space
If you want to improve your crawl space insulation, the local experts at Foam It Insulation can help. Call us at 1-607-260-3044 or contact us online to schedule an inspection and get a no-cost quote for crawl space winterization. We provide a wide range of insulation solutions to homeowners in Binghamton, Endicott, Johnson City, Vestal, Owego, Apalachin, Jackson, Greene, Kirkwood, Conklin and nearby.
Looking for a price? Get a no cost, no obligation free estimate.