Basement Floor Insulation Near Johnson City, Endicott, Binghamton
See how easy it is to insulate your basement floors (or concrete slab) with ThermalDry® Insulated Floor Decking™ installation.

ThermalDry® Floor Decking: A smart solution for insulating concrete floors
Nobody likes cold floors, but that's what you get when flooring is installed directly over a concrete slab. However, you can say goodbye to cold floors and high heating bills with an innovative basement floor insulation system installed by Foam It Insulation.
ThermalDry® Insulated Floor Decking™ interlocking panels are designed with a layer of high-performance rigid foam insulation to create a continuous thermal barrier between the cold concrete and your finished floor surface.
If you are looking for a smarter solution for insulating over concrete floors, contact us today for a free estimate for ThermalDry® Decking in Endicott, Binghamton, Johnson City and throughout New York!
Check out the benefits of ThermalDry® Floor Decking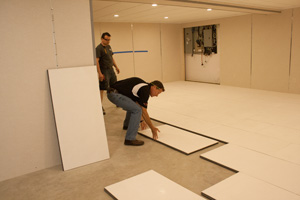 Superior subfloor. ThermalDry® Floor Decking creates a thermal barrier between cold concrete and the finished floor surface. Unlike wood subflooring, it won't support mold or be damaged by moisture.
Comfort over concrete: Say goodbye to cold floors. The ThermalDry® underlayment system creates a continuous layer of rigid foam insulation that limits heat loss, keeping your floor warm.
Superior insulation materials: ThermalDry® Decking uses 1" of SilverGlo™ insulation. SilverGlo™ has graphite infused into expanded polystyrene (EPS) foam and a 24% greater insulating value over standard EPS foam.
Versatility: ThermalDry® Floor Decking creates a durable, insulated subfloor over any concrete slab.
Trouble-free installation: Panels interlock and don't require masonry fasteners. Basement floor insulation and underlayment is installed in a single step.
Single-step insulation & basement subfloor installation in New York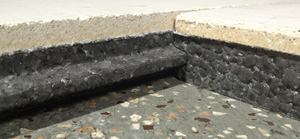 Fast & effective. ThermalDry® Decking panels interlock with tongue-and-groove joints. The composite subfloor surface is a suitable substrate for the finished floor of your choice.
ThermalDry® Decking panels connect with tongue-and-groove edges, and don't require masonry fasteners. If the concrete surface is clean and flat, installation goes quickly because you're putting down insulation and underlayment at the same time.
When insulating a basement, it's important to use materials that won't be ruined by moisture or plumbing leaks, two issues that are common in basements. Moisture and mold can also ruin floor coverings and wood subfloors, resulting in costly floor replacement.
ThermalDry® Floor Decking is made from inorganic materials that won't be damaged by moisture or mold, providing a dry surface for finished flooring and a worry-free basement insulation solution.
Keep your home comfortable with insulated flooring
Don't deal with cold, uncomfortable basement floors any longer! Contact Foam It Insulation today for a consultation and free quote on ThermalDry® Insulated Floor Decking™ for your basement. We proudly serve in Binghamton, Endicott, Johnson City, Owego, Vestal, Jackson, Apalachin, Kirkwood, Conklin, Greene and throughout the nearby areas.
Looking for a price? Get a no cost, no obligation free estimate.