Experts for Blown-in Insulation Near Johnson City, Endicott, Binghamton
Watch this video about improving blown-in fiberglass insulation with blown-in cellulose insulation.
Why homeowners choose us:
Experience with all types of blown insulation
Meticulous air-sealing prep work 
Free estimate and fast installation
Fully trained and certified installers
Blown-in insulation is also referred to as "blow-in" or "blown" insulation. It doesn't really matter which term you use. What DOES matter is the improved energy performance that blown insulation makes possible in any unfinished attic.
According to the U.S. Dept. of Energy, most attics aren't adequately insulated. A typical home is likely to have less than R-20 attic insulation. But throughout most northern states, the DOE recommends that attics in be insulated to R-49 or more.
Contact your local insulation experts at Foam It Insulation today to schedule a free estimate and consultation on the best insulation for your needs. We offer our services in New York throughout Binghamton, Endicott, Johnson City, Vestal, Owego, Apalachin, Jackson, Greene, Kirkwood, Conklin, and all surrounding cities and towns.
Before and After
Before

After

This homeowner in Montrose, Pennsylvania had very high energy bills. They had previously insulated their attic and were looking to take the next step towards making thier home more energy efficient. We proposed to insulate their exterior walls with TruSoft Insulation which will further extend the barrier from the attic to help prevent conditioned air leakage and unconditioned air from leaking into the home. We started by removing siding and drilling the holes for TruSoft Insulation to be blown in. We then plug the holes and reattach the siding. This method leaves the home looking vitually untouched but much more insulated and energy efficient.

Before

After

Fiberglass will allow conditioned air to pass through it and be lost to the outside while acting as a filter to keep in any allergens or pollutants in the air. Tru-Soft insulation in a properly Air-Sealed attic will keep the conditioned air inside the home. Efficiency and comfort going hand in hand

Before

After

This homeowner in Vestal, NY was lacking insulation in the attic, which caused the air she was paying to heat in the winter and cool in the summer to escapape through the roof. We proposed to air seal the attic by sealing the top plates, sealing the rim joists, and around lighting and duct fixtures as well before open blowing 12 inches of our TruSoft cellulose insulation to thoroughly insulate the attic. This home will now be more comfortable for the homeowners, and the air that they pay to heat and cool will actually do so as it is not escaping through the attic.
Blow-in insulation is cost-effective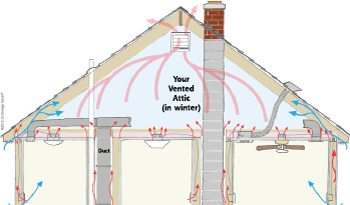 Heat movement and conditioned air leakage is virtually unimpeded across a poorly insulated and poorly air-sealed attic floor.
The combination of too little insulation and too much air leakage can waste a great deal of energy. That's why home performance experts recommend that air-sealing improvements be combined with insulation upgrades.
When attic air sealing is combined with an attic insulation upgrade, it's possible to reduce heating and cooling costs by as much as 40 percent. Wouldn't you be interested in cutting your "comfort" costs nearly in half?
If you have an unfinished attic, you'll be surprised at how affordable it is to seal air leaks between your living space and the attic and upgrade attic insulation by having blown insulation installed. Both energy-saving upgrades can usually be completed in a single day.
Fiberglass and cellulose are blown insulation materials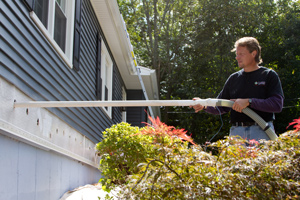 Cellulose insulation is ideal for blowing into walls, too.
Some insulation contractors install blown fiberglass insulation, some install cellulose and some can install both types of blown insulation. Blown fiberglass and blown cellulose are both "fluffy" insulation materials with similar R-values.
The installation method for blown fiberglass and blown cellulose is identical. A shredding and blowing machine located outside the house forces the blown insulation through a long, flexible hose that extends into the attic, where a technician directs the flow.
Blown fiberglass and blown cellulose insulation can be installed directly over existing attic insulation, providing that this older insulation is in good condition.
If you haven't yet made this energy-saving investment, it's definitely worth doing. Once it's complete, there's no maintenance to worry about. An insulation upgrade is a once-and-done improvement you'll enjoy for as long as you own your house.
Get an estimate to install blown-in insulation in your attic
We proudly offer a home energy audit to properly evaluate what areas in your home are the source of your comfort or energy problems. Once identified, we will provide the best solutions. Need attic insulation? We offer free estimates for attic insulation and the use of blown insulation in Endicott, Binghamton, Johnson City, Owego, Vestal, Jackson, Apalachin, Kirkwood, Conklin, Greene, and all surrounding cities and towns. Contact us today!
Looking for a price? Get a no cost, no obligation free estimate.